Studies have shown that a student who stays active physically will be more alert,  attentive in the classroom, and have a generally healthier life! The CDC states: Regular physical activity can help children and adolescents improve cardio-respiratory fitness, build strong bones and muscles, control weight, reduce symptoms of anxiety and depression, and reduce the risk of developing health conditions such as diabetes or obesity. Bonus: scientific research has shown that exercise can actually improve students' grades! 
Teaching our children physical education starting at a young age will give them healthy habits to take with them into adulthood. Regular fitness routines along with a fully equipped school gymnasium affords them the opportunity to be active for 30-60 minutes a day during school hours, in addition to after school activities!
A school gymnasium is much more than just a place for sporting events; it's a place for communities to gather, from the school district to the neighborhood as a whole. When was the last time your school evaluated the gymnasium and athletic equipment? Is this active environment ready to take on the next decade? The Larson Equipment and Furniture Company is here to guide you through this exciting process…
The School Gymnasium is the Heart of the School
Similar to a check up on our physical hearts, the gymnasium needs a regular check up as well! Make sure your school's gymnasium is in the best condition possible for all of these exciting moments. Whether you're redesigning or renovating your school gymnasium, there are a lot of important points to consider. A key takeaway: a gymnasium needs to be able to adapt quickly, offering places that accommodate a wide-range of needs – both the expected and the unexpected.
This important focal point holds the most energy, laughter and school spirit. Goals will be crushed and important life moments will take place within these walls! Students gather for school dances, cheer on their fellow classmates at sporting events, vote for their favorite project during the science fair, and families will come to proudly watch their loved ones graduate at the end of the year.
We want to ensure that your school gym is as safe and maintained as possible, take a look at this quick checklist of signs to determine if your school gymnasium needs renovations:
Emergency Situations:

Is your gymnasium fully equipped with fire extinguishers, emergency exits, sprinklers, first-aid kits, and a clear evacuation plan?

Flooring

: Are there uneven or broken floor boards, unsightly/worn material, splintered wood, separation of planks, cracks within the wood paneling. These can all cause injury to students, families, and staff. Wear and tear to flooring commonly occurs from long term use, heavy traffic, and scuffs from gym shoes or equipment.

Dullness

: Is the paint peeling? Wall pads worn out or torn? School colors should be vibrant and exciting to make this environment stand out and elicit excitement!

Lighting

: Is the gym too dim? Lights too orange? Although fluorescent lighting is common, newer gyms are opting for LED lighting. Some high school gyms are being designed to combine natural light with LED lights to conserve energy and reduce overall costs. Implementing natural light can also create a beautiful effect!

Equipment:

What is the condition of your basketball hoop/rims, scoreboards, volleyball nets, wrestling mats, climbing ropes, etc? Has the equipment been maintained properly over the years?

Seating

: Make sure seating, such as the bleachers or risers, are free of splinters and rough corners, and are properly braced and secured. Opt for ergonomic seating to ensure your fans are comfortable!

Accessibility:

Your design plan needs to be easily accessible for everyone.

It is important to be aware of accessibility standards

required by the Americans with Disabilities Act or even stricter state and local laws that in some cases take precedence over the ADA.

The flow of your design should make it easy to get from one place to the next, all the way from the entry to the seats and back to the locker rooms. This may include adding wheelchair ramps and more handrails for support.

Vandalism

: Are any areas vandalized? This may include graffiti on the walls, carving into benches, gum on the seats, and unsightly stains.
Hooray for SCHOOL SPIRIT!
There are many reasons why renovating your gymnasium is a great idea. Not only to enhance the physical aesthetic of your facility, but also for boosting school spirit! If your gymnasium is lacking a few essential aspects (for example school colors or mascots on the walls), your students can be left feeling uninspired and uninterested in all things involving their school.
Take a good look around…Does your basketball court show off the school mascot on the floor? Are the walls or seating featuring dull colors, such as off whites, browns, or greys? The school colors should always be vibrant and fun! Bring back enthusiasm to your school by revitalizing the walls, floors, and even the bleachers with your school's color scheme.
No matter their age, children and teens enjoy colors that stimulate their minds and wake up their brain. Students want to be inspired by their surroundings. "A lack of color can negatively impact how students learn. Color-deprived environments can be uninspiring and non-stimulating, human efficiency rates drop when exposed to white or off-white surroundings. Lack of stimulation in monotone environments can lead to irritability, restlessness, anxiety and excessive emotional responses."
Parents, faculty and members of the community want to see their children and students participating in an upbeat, well maintained environment. It will be easier to get the support of future PTO events if there is a bold backdrop to fundraise in! When recruiting future coaches to work for your high schools, they will definitely want to see your gymnasium to evaluate the environment they'll be working in everyday! How you take care of the school gymnasium will play a factor in obtaining the best of the best staff! When rival teams come to play in your school, let them be amazed by the awesomeness of your facility! View examples of The Larson Equipment and Furniture Company's school transformations for some school spirit inspiration!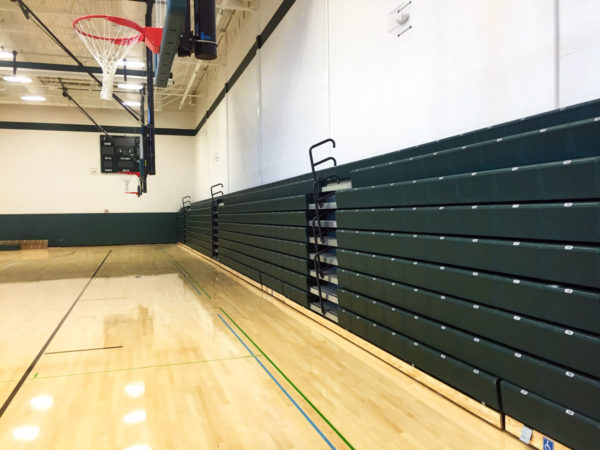 For the Love of the Fans…
Fans are the core of school spirit, and at any event with spectators, they need to have the best seat in the house. From pep rallies, sporting events, to graduations, seating plays an intricate role in the enjoyment of attendees. It's challenging enough during assemblies to keep everyone's attention, but when you add uncomfortable seating it's almost impossible. The seating inside of your gymnasium doesn't have to be the traditional, uncomfortable wood benches anymore. 
We work with innovative manufacturers, such as Interkal, who have developed the best options for comfort and  maximizing space with bleachers, benches, and chairs. "You know you will receive the highest quality craftsmanship, made by our highly skilled union workforce. Our technologically advanced factory uses robotics and industrial laser technology to manufacture precise and consistent quality products. Our employees (who average over 17 years with the company) are dedicated to our mission."
"Retractable, folding systems are ideal if storage space for the folded-up bleachers is available in the gym. If not, consider portable bleachers that can be rolled and stored in an adjacent storage room. Reconditioning existing bleachers, by using vinyl bleacher covers or by enlisting the services of a bleacher refurbishing company, can be an option in lieu of replacement."
While bleachers are an affordable option, some schools are opting for more luxurious stadium-style seating, complete with sunken seats and armrests. Depending on the size of the school and the community's overall need for a gymnasium, the amount of seating needed will vary.
Browse a few of the excellent solutions Interkal offers: 
ComfoBack® Automatic Contoured Backrest System

:

A luxurious seating option! Ergonomically designed for maximum spectator comfort, this revolutionary backrest system provides superb comfort for spectators along with convenience for facility personnel– The fully-automatic operation makes set-up fast and effort-free! This is an excellent V.I.P. seating upgrade.

VISION Platform Chair (PC)

: With its blow molded plastic components and cast aluminum brackets, the VISION offers a unique combination of comfort and structural integrity.The VISION maintains its seat pan width from front to back to make for a comfortable experience for patrons of all shapes and sizes.Available in three types of chair fold-down operation.

ContourSeat Modules (CSM):

For comfort, aesthetic appeal and endurance, CSM is hard to beat! 18″-wide seat modules with a 12" standard seat depth are anatomically-contoured and provide a minimum adult seat height of 17" to achieve greater spectator comfort. The ContourSeat Modules distinctive "waterfall" front is highly functional as well as beautiful. The angled seat modules provide 30% more legroom than competitive products. This allows spectators to more freely move their legs. Modules are constructed of one-piece injection molded high strength polyethylene which resists stains and will not splinter or warp. The molded-in solid color will not fade or wear out.

Excel Seat Modules (ESM)

: Modules are constructed of one-piece injection molded high strength polyethylene which resists stains and will not splinter or warp. The molded-in solid color will not fade or wear out. 18″-wide seat modules are anatomically-contoured and provide a minimum adult seat height of 16-1/2" to achieve greater spectator comfort. The contoured module front produces more leg room. Easy to clean, easy to sweep with no obstructions. No debris traps or exposed hardware.
Protecting Athletes with Quality Flooring and Proper Lighting
A quality surface won't prevent athletes from ever getting hurt, but it can certainly reduce the likelihood of injury! Courts are multi-functional for a variety of sports and activities. Let's take a look at the different factors used to create a safer sports floor. A quality court is easier on joints. Sufficient shock absorption is crucial in a good sports floor. That's what helps reduce long-term injuries among athletes of all ages. Medical experts in the sports world agree. A paper published by the American Academy of Podiatric Sports Medicine (AAPSM) explains the impact of surfaces on injury prevention: "Different playing surfaces can also have an effect on injuries. Indoor wood courts offer the most shock absorption and are considered the safest courts, while outdoor courts of asphalt are more dangerous. Concrete courts are the hardest and most dangerous courts in relation to lower extremity injuries."
It's important to make sure your floor has the right amount of give for the type of activities that will take place on it as well as the age of athletes using it, for example: Basketball, Volleyball, Wrestling, and Cheerleading.
According to LiveStrong.com: playing on harder surfaces like tile, concrete, asphalt, tartan surfaces and some newer synthetic surfaces with less give can lead to "jumper's knee," or patellar tendinitis. Playing on surfaces with extreme traction, like rubberized floors, can increase ankle sprains, knee sprains, turf toe and other injuries familiar to football players competing on older-style artificial surfaces. Quality maple floors tend to have the amount of give that many athletes prefer. Imagine your school's finished gymnasium decorated for a winter dance and graduation day. Showcasing clean, beautiful new floors will make everyone say "wow" when they first enter! Parents will be happy to know that their school is invested in the safety of their young athletes.
Another factor to consider is the lighting of your gymnasium. A well lit gym can prevent accidents and injuries. Appropriate lighting, however, is essential to providing a first-rate experience for athletes and spectators. Did you know that the type of lighting inside of your school can  affect someone's mood?
Here are a couple lighting options that have been proven to have positive effects on wellbeing:
Natural Lighting:

Getting enough sunlight is highly beneficial for students' development in classrooms as well as during physical education. "Several studies have shown that daylight is not only good for children's overall health and wellbeing, but that it can also significantly improve academic performance. One such study concluded that academic performance can increase by up to 15% when students work in classrooms with larger windows – due both to increased daylight, and a better view to the outside world. The

Clever Classrooms study

concluded that good daylight helps to create a sense of physical and mental comfort. "

Good daylight distribution

across a room is often best achieved by using several different sources of daylight, such as a combination of skylights and windows, and this can also ensure reduced levels of glare and contrast."

Natural light can be great if windows are properly located

and specified. Avoid placing windows where the sun will create glare problems. 

LED Lighting:

Artificial lighting can be harsh on the eyes and affect our mental wellbeing and concentration. "

LED gym lighting provides the optimal lighting

for

classroom lighting

and gymnasiums across the world. Switching to LED

gym lighting fixtures

have a positive impact on student learning and the school budget. School districts are following the LED light revolution and making the switch to LED school gym lights to save energy and money."

Regular light bulbs have to be changed 2-3 times a year (minimum). LED lights are durable and longer lasting. They will also reduce your energy costs because they will not raise the rooms temperature like standard light bulbs. "Typically LED lighting cuts energy usage by 80%. The lights provide 50,000 to 80,000 hours of light before needing replacement. 
Revamping the school gymnasium is a smart way to invest in your students, the school, and community as a whole.
Having a fresh, well maintained, vibrant environment helps entice more kids to get involved with school activities! Getting more students involved with school events is a great way to keep kids out of trouble with somewhere positive and safe to spend their time. Happier students = better grades! The school gymnasium can also serve as a place for community events (such as voting) and public forums too. Make your school gymnasium a place to be proud of. 
Remodeling this environment is a sure way to improve your school or district rankings for best athletic facilities and could be a catalyst to more wins. More wins = a higher standing in your district! Take a look at examples of gymnasiums that The Larson Equipment and Furniture Company has transformed…
The Larson Equipment & Furniture Company serves a prestigious list of clients throughout Illinois, Northern Indiana and Southern Wisconsin. Serving over 800 school districts in the area, Larson has come to be regarded as the expert in enhancing the educational environment of children. Learn the other ways we can freshen up your educational facilities!
We'd love to take a look at your space and discuss ideas for renovations. Interested in getting your gymnasium ready before the next school year begins?
Contact us today to discuss your project!
Let's Discuss Your New Gymnasium!
Is your facility in need of a renovation before the new school year?